Teacher Pep Talk: For When You Need to Change Your Teacher Mindset (Ep. 12)
Aug 19, 2022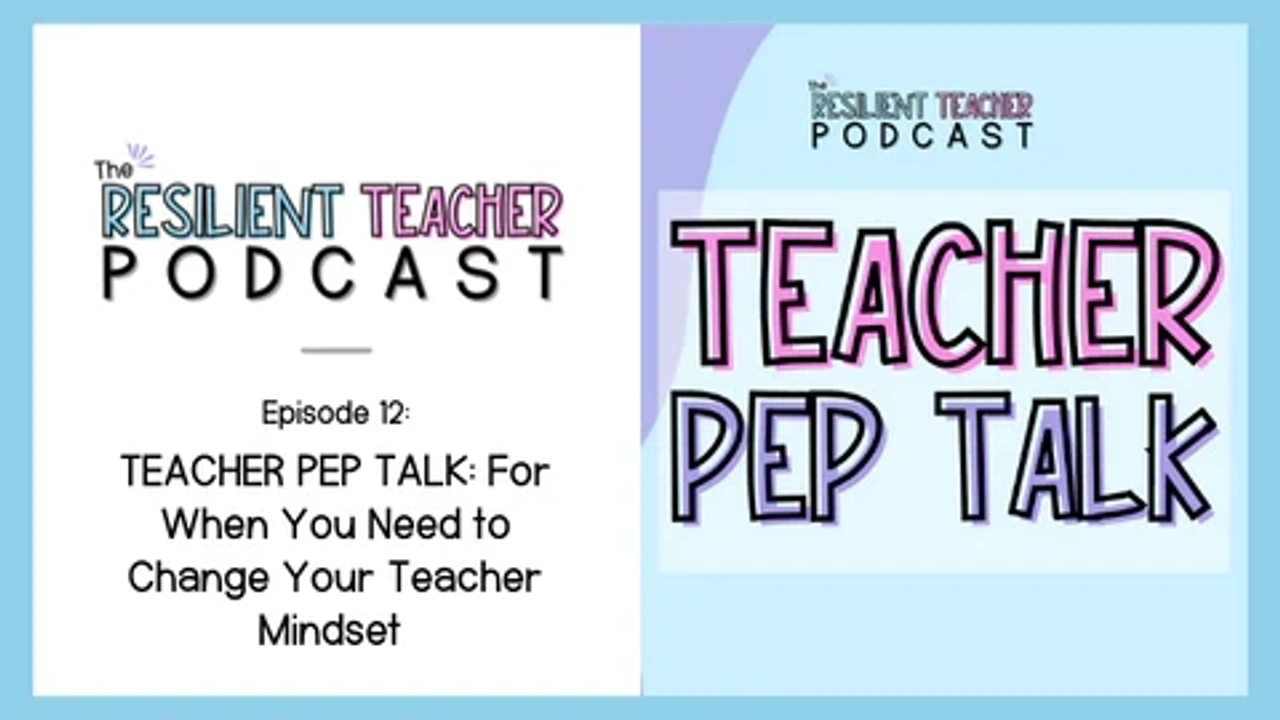 Are you a teacher that is trying to change your mindset but outside circumstances just keep beating you down? In this episode, I am being really real and raw with you about a situation that happened recently with me and how it made me feel. It was something I had no control over and it made me feel stuck. I want to remind you that even though I teach specific strategies about resilience, burnout, and prevention, I am also still a teacher and in the trenches with you. There are still things that I am having to go through as well and I want to share those with you as if we are two teacher besties working through problems together. I know so many teachers who also feel like their situations are making them stuck in one way or another. Maybe their administration, state testing, outside work circumstances make you feel down in the dumps and like there is no light at the end of the tunnel.
After I share with you my experience, I am sharing with you the pep talk behind it - motivation, inspiration, validation, and pick me up to remind you that you've got this. There is a way to change your mindset about these types of things. This is the type of energy we need! These pep talk style episodes are my attempt to create a more authentic way for you to connect with me, for you to feel like you have support on your hardest days (even if and ESPECIALLY if you don't have that in your community or schools).
TOPICS COVERED:
When things feel out of control
When you try to handle outside circumstances but they keep beating you down
My experience recently with this exact same thing
Crappy External Circumstances and how to handle them
How to change mindsets
The Choices we can make
The Number One thing that

influences what kind of teacher we show up in the classroom to be, what type of friend, spouse, parent, etc.

Reminders and Motivation for when you feel stuck or when outside circumstances are bringing you down
RELATED RESOURCES:
CONNECT WITH BRITTANY:
RELATED EPISODES:
MORE ABOUT THE RESILIENT TEACHER PODCAST:
The Resilient Teacher Podcast is the show that will give overwhelmed educators the support, tools, and mindset to reduce teacher burnout and keep teaching sustainable. Each week, Brittany Blackwell, M.Ed. & her guests will share inspiration and actionable steps to avoid or recover from the dreaded teacher burnout. You'll be inspired to individualize self-care and learn to prioritize your well-being and mental health, all while making a bigger impact on your classrooms and community.
Some links on this page are affiliate links. This helps to support this podcast at no additional cost to you.
Stay connected with news and updates!
Join our mailing list to receive the latest news and updates from our team.
Don't worry, your information will not be shared.
We hate SPAM. We will never sell your information, for any reason.