From Stressed to Serene: The Positive Impact of Movement on Teacher Mental Health with Andrea Mishio (Ep. 39)
Feb 14, 2023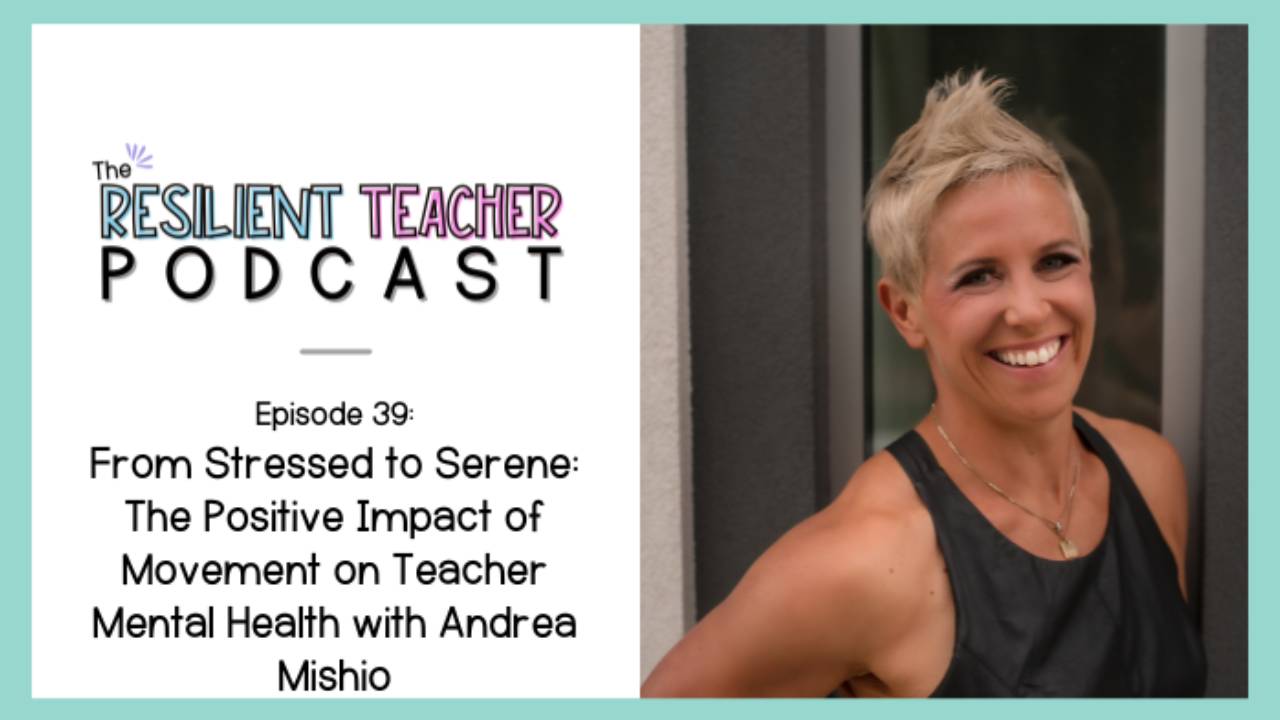 I am so excited to be talking about today's topic – how movement impacts your mental health – although I'm most excited for my guest to take the lead because, frankly, I've never been a huge fan of exercise. As someone who grew up listening to diet culture and thinking of exercise as a means to weight loss, I am not an expert in getting fit or sustaining a movement routine that works well. Nonetheless, I know one thing to be true: movement has been scientifically proven to reduce and even protect from depression, anxiety, and burnout. So much so that studies have used brain imaging to show the effects of exercise on the brain and found that exercise can increase the production of neurotransmitters, such as serotonin and dopamine, that play a role in regulating mood and emotions. Plus, as we've talked about in regards to the stress cycle on the podcast before, our body is conditioned to want to run when triggered by stress and in fight or flight mode. Instead of running from exercise, we're running to my guest, Andrea Mishio, to get all the deets on how we can begin using movement for overall mental health and resilience.
Andrea Mishio has been a dynamic junior high school teacher for 10 years. She is the mother of 2 girls, and has been married to her husband for 19 years. Through her fitness journey, she has discovered a passion for health, and for helping others become healthier & happier versions of themselves.
TOPICS COVERED:
Resilient Teacher Shoutout
The science behind movement for mental health
Movement 👉 Endorphins
How movement actually ENDS the stress cycle
Andrea's Road to Fitness
Practical Strategies for Starting Small to add movement into your day
The Importance of Movement for Stress Reduction
The Power of Taking Time for Self
Find Your Motivation for Movement by Individualizing
3 Methods to Stay Accountable in Incorporating Movement
Exercise & Nutrition aren't JUST about how we look - it's how we FEEL
RESOURCES MENTIONED IN THE EPISODE:
CONNECT WITH ANDREA MISHIO:
CONNECT WITH BRITTANY:
RELATED EPISODES:
MORE ABOUT THE RESILIENT TEACHER PODCAST:
The Resilient Teacher Podcast is the show that will give overwhelmed educators the support, tools, and mindset to reduce teacher burnout and keep teaching sustainable. Each week, Brittany Blackwell, M.Ed. & her guests will share inspiration and actionable steps to avoid or recover from the dreaded teacher burnout. You'll be inspired to individualize self-care and learn to prioritize your well-being and mental health, all while making a bigger impact on your classrooms and community.
SUBSCRIBE & REVIEW ON ITUNES:
Are you subscribed to the podcast? If not, I encourage you to do that NOW so you never miss another episode! New episodes are added every Tuesday, and if you're not subscribed there's a good chance you might miss out on notifications that a new episode has gone live. Click here to subscribe on iTunes!
And if you are feeling extra amazing, I would be super grateful if you would leave a review on iTunes, too! Those reviews help other educators who are burned out and needing support find the podcast, and I love shouting you out on the Community Reviewer of the Week Segment! Just click here to review, select "Ratings & Reviews" and "Write a Review" and share what you are loving about the podcast!
Some links on this page are affiliate links. This helps to support this podcast at no additional cost to you.
Stay connected with news and updates!
Join our mailing list to receive the latest news and updates from our team.
Don't worry, your information will not be shared.
We hate SPAM. We will never sell your information, for any reason.